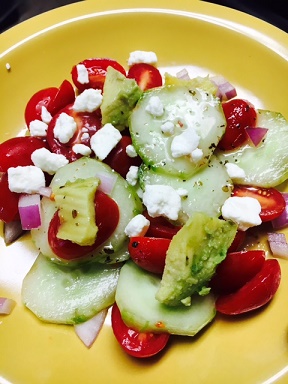 TOMATO, AVOCADO & FETA SALAD Wicked Good Salt, Traditional Italian, Pepper & Garlic Seasoned Sea Salt, Sunflower Oil
Serves 4
1 Avocado, sliced
1 English Cucumber, sliced
⅓ cup chopped onion
1 pint cherry tomatoes, cut in half
¼ cup Feta cheese, or to taste
1 teaspoon Traditional Italian Seasoning
⅔ cup Sunflower Oil
⅓ cup red wine vinegar
½ teaspoon Wicked Good Salt
¼ teaspoon Pepper & Garlic Seasoned Sea Salt
1. Make dressing by mixing vinegar, Sunflower Oil and seasoning together in a bottle, shake well and set aside for 10 minutes for flavors to develop.
2. Place cucumber, onion, tomatoes in a medium bowl, toss to combine. Mix in Feta and divide salad evenly on four plates, top with slices of avocado and desired amount of dressing.
This recipe was inspired by Barb Moorehead.