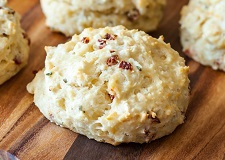 SUNDRIED TOMATO BISCUITS Sundried Tomato Seasoning & Pesto
Yields about 20 biscuits
2¼ cups Bisquick® baking mix
1¼ cups grated Parmesan cheese
1 egg, slightly beaten
1 cup milk
¼ cup melted butter
2 tablespoons Sundried Tomato Seasoning & Pesto
1. Combine Bisquick® and grated Parmesan cheese.
2. In a separate bowl combine egg, milk, butter and Sundried Tomato Seasoning & Pesto. Lightly stir this mixture into the dry ingredients until evenly moistened.
3. On a greased baking sheet place approximately one tablespoon of biscuit mix leaving about 1½ inches between biscuits until pan is full.
4. Bake in a preheated 400⁰ oven 15 to 20 minutes or until lightly browned.