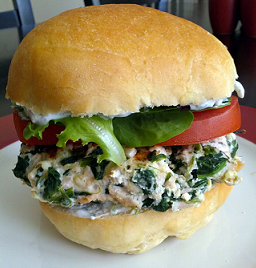 SPINACH & FETA TURKEY BURGERS Spinach Seasoning
Makes 4
3 tablespoons Spinach Seasoning
3 Tablespoons water
1 pound ground turkey
¼ cup feta cheese
1. Combine Spinach Seasoning and water in a small microwaveable bowl; microwave for 25 seconds. Cool mixture slightly.
2. Stir spinach mixture into ground turkey along with feta cheese. Form meat mixture into four patties; grill or pan fry until cooked through.
3. Serve on a burger bun with your favorite toppings.