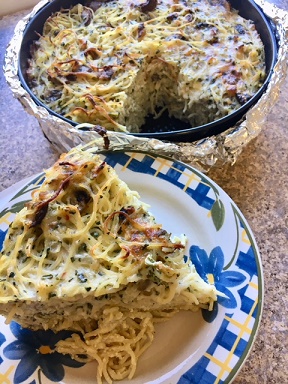 SPAGHETTI PIE (w) PORTABELLA & SPINACH Spinach Seasoning
Serves 8 to 10
Unsalted butter, softened, for brushing
1 pound spaghetti
3 tablespoons EVOO
1 medium onion, minced
2 garlic cloves, minced
1 pound Portabella Mushrooms, cut into 1 inch pieces
Kosher salt
Fresh ground black pepper
1 cup Spinach Seasoning
3 large eggs
1 ¾ cup whole milk
3 cups shredded Fontina cheese (10 ounces)
1 cup ricotta cheese
1 cup finely grated Parmesan cheese
1. Preheat oven to 425⁰F. Tightly wrap the outside of a 9 inch spring form pan with foil and brush the inside with butter. In a pot of salted boiling water, cook the spaghetti until barely as dente; drain.
2. In a large skillet, heat EVOO. Add the onion and garlic and cook over moderately high heat, stirring until sizzling, about 1 minute. Add the mushrooms, season with salt and pepper and cook, stirring occasionally until browned.
3. In a large bowl, beat the eggs with the milk and stir in the Spinach Seasoning with 1 ½ teaspoons salt and 1 teaspoon black pepper. Stir in the ricotta until blended. Add the remaining cheeses. Add the onion, garlic and mushroom mixture. Mix in the cooked spaghetti in until well incorporated.
4. Pour mixture into the prepared spring form pan that has been placed on a baking sheet. Bake 35 minutes, until bubbling and the top is golden. Let stand for 15 minutes before removing the ring. Cut in wedges and serve.
NOTE: This pie can be baked up to 2 hours ahead and eaten warm or at room temperature.