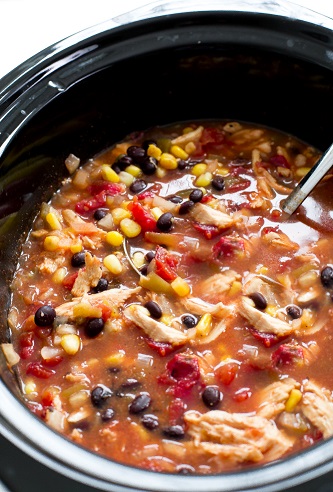 ENCHILADA STEW Adobo Seasoning
Serves 4
4 corn tortillas, cut into strips
1 teaspoon oil
8 ounces cream cheese, softened
1 cup plus 2 tablespoons milk, divided
1 ½ tablespoons Adobo Seasoning, or to taste
1 ½ pounds boneless skinless chicken breasts, cut into bite size pieces
15 ounces black beans, rinsed and drained
11 ounces corn with red and green bell peppers, drained
15 ounces diced fire roasted tomatoes, drained (for crockpot use liquid)
¼ cup fresh cilantro, chopped
2 cups chicken broth (crockpot recipe only)
Stove Top Version
1. Heat oven to 400⁰F.
2. Toss tortilla strips with oil; spread on baking sheet in a single layer. Bake 10 to 12 minutes or until crisp, stirring occasionally.
3. Mix cream cheese, 2 tablespoons milk and Adobo Seasoning until well blended.
4. Cook chicken in a medium saucepan sprayed with cooking spray on medium-high heat 8 to 10 minutes, stirring frequently, until fully cooked. Stir in cream cheese mixture, remaining milk, beans, corn and tomatoes. Simmer on medium-low heat 6 to 8 minutes or until heated through, stirring frequently.
5. Serve topped with tortilla strips and cilantro.
Crockpot Version
1. Place whole chicken breasts in the bottom of the crockpot.
2. Sprinkle Adobo Seasoning onto chicken.
3. Place black beans, corn, chicken broth and tomatoes on top of chicken. Cook on LOW for 6-8 hours or HIGH for 4 hours.
4. Remove the top and shred the chicken breasts with two forks.
5. Stir in cream cheese and milk until fully combined.
6. Serve topped with tortilla strips and cilantro.