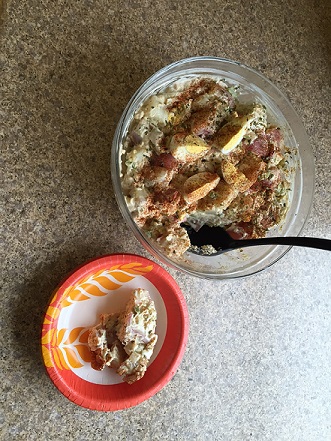 DILLY POTATO SALAD Lemony Dill Seasoning
Serves 12
3 pounds cubed red-skinned potatoes
½ pound fresh green beans cut into 1-inch pieces
1 x 2.2 oz can sliced black olives
½ cup chopped celery
½ cup chopped onion
½ cup EVOO
4 tablespoons white wine vinegar
2 tablespoons Lemony Dill Seasoning
2 tablespoons Dijon mustard
Salt and pepper to taste
1. Place the cubed potatoes in large saucepan. Add water to cover. Bring to the boil and cook until the potatoes are just tender (5-6 minutes).
2. Add the beans and cook 2 minutes. Drain & cool slightly.
3. Mix the potatoes, beans, olives, celery, and onion in large bowl. Whisk together remaining ingredients in a small bowl. Add to vegetables, toss to coat. Add salt and pepper to taste.
4. Refrigerate at least 4 hours or until ready to serve. Stir before serving.