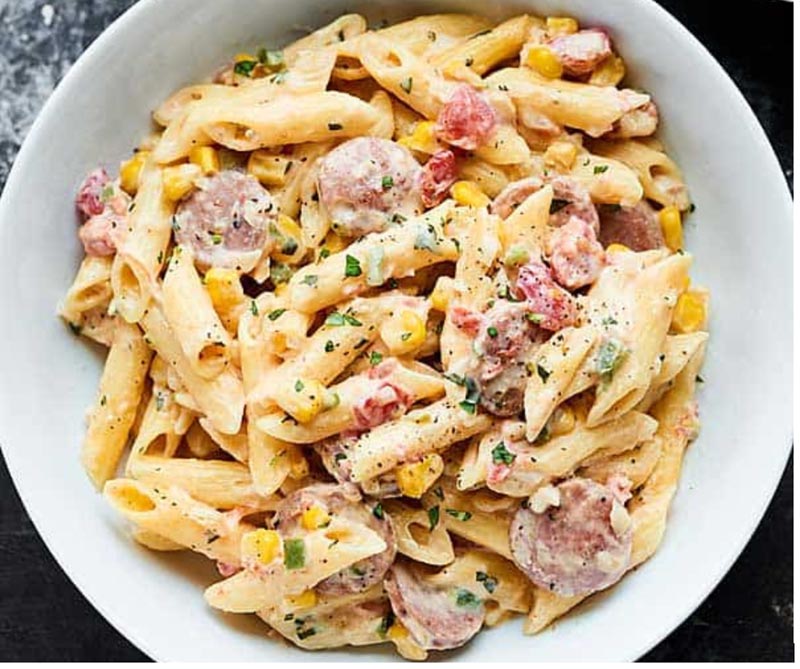 Another delicious Lesley Elizabeth recipe!
CREAMY PASTA w CHICKEN & SAUSAGE Mediterranean Herb Oil
Serves 4
4 cloves fresh garlic (sliced)
¼ cup Mediterranean Herb Seasoned Cooking Oil
1 medium yellow pepper (cut into strips)
1 medium sweet red pepper (cut into strips)
¾ cup corn (fresh or canned)
1 cup sliced sweet onion
8 ounces shredded mozzarella or parmesan cheese
1 pound chicken breast (cut into bite size pieces)
8 ounces Andouille or Chorizo sausage (sliced)
12 ounces of Penne Pasta
1 tablespoon Wicked Good Pepper
½ teaspoon salt or to taste
1 pint half & half cream
Sauté chicken, sausage, & garlic in Mediterranean Herb Oil until chicken is no longer pink. Add onions, and peppers, heat until warm and tender crisp. Stir in half & half, salt & Wicked Good Pepper. When half & half begins to simmer add corn and cheese and stir until well blended. Fold in cooked pasta and serve.
Note: For a milder flavor use smoked sausage in place of Andouille or Chorizo