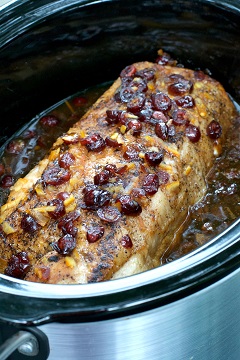 CRANBERRY ORANGE PORK LOIN Cranberry Vinegar
Serves 6 to 8
2 tablespoons cooking oil
1 pork loin roast, about 4 pounds
14 ounce can whole berry cranberry sauce
½ cup Cranberry Balsamic Vinegar
1 tablespoon corn starch
1 teaspoon zest and ¼ cup juice from 1 orange
1 tablespoon Pepper & Garlic Seasoned Sea Salt, or more
1. Heat oil in a large skillet on medium high heat. Add pork loin; cook 4 to 5 minutes on each side or until browned on both sides. Transfer meat to slow cooker.
2. In a medium size bowl combine Cranberry Balsamic Vinegar, Pepper & Garlic Seasoned Sea Salt, Cranberry sauce and orange zest. Pour over pork loin, cover with lid and cook on low 4 to 5 hours.
3. Remove meat from slow cooker; reserving liquid in the cooker. Cover meat to keep warm. Whisk corn starch and juice from orange in a small bowl until blended; stir into liquid in slow cooker. Cook covered, on high 10 minutes or until thickened.
4. Slice meat; place on platter and drizzle lightly with sauce. Serve with remaining sauce.