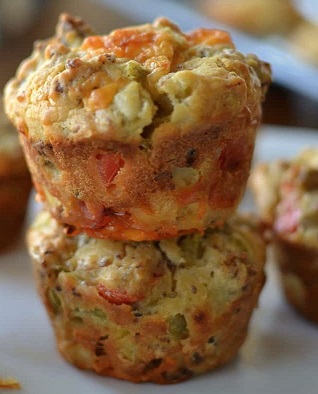 BREAKFAST MUFFINS (w) MAPLE BACON SUGAR
Makes 12
1⅓ cups white corn meal
1 cup all-purpose flour
1 tablespoon baking powder
1 teaspoon salt
¼ cup butter, softened
⅔ cup Maple Bacon Sugar
1 ¼ cups milk
2 eggs
8 ounces ground breakfast sausage, cooked and crumbled
½ cup mild cheddar cheese, shredded
⅓ cup canned chopped green chilies
1. Preheat oven to 400⁰F.
2. Mix corn meal, flour, baking powder and salt together; set aside.
3. In a mixer, cream together butter and Maple Bacon Sugar. Beat in eggs. Add milk.
4. Add dry ingredients to wet ingredients. Mix until moistened. Stir in sausage, cheese and chilies. Spoon into greased muffin tins. Bake 25 to 30 minutes or until golden brown.