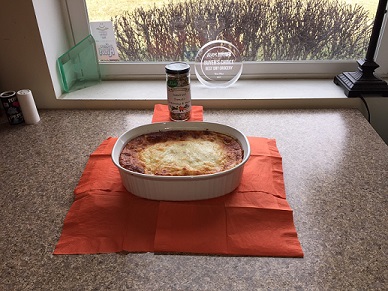 WHITE CHICKEN & ARTICHOKE LASAGNA Sundried Tomato Seasoning & Pesto
Serves 12 350⁰F
2 cups shredded cooked chicken breasts (or fully cooked rotisserie chicken)
14 ounces artichoke hearts packed in water, drained & chopped
16 ounces cream cheese, softened
½ cup Parmesan cheese
4 tablespoons Sundried Tomato Seasoning & Pesto
8 ounces mozzarella cheese, divided
1 cup milk
12 lasagna noodles, cooked
1. Combine chicken, artichokes, 1 cup mozzarella and Parmesan cheese, set aside.
2. Beat cream cheese, milk and Sundried Tomato Seasoning & Pesto. Mix half of the cheese mixture into the chicken mixture.
3. Spread half of the remaining cream cheese mixture onto the bottom of a 13 x9 inch baking dish; cover with 3 noodles and ⅓ of the chicken mixture. Repeat layers of noodles and chicken mixture twice. Top with remaining noodles, cream cheese mixture and mozzarella cheese.
4. Spray aluminum foil with cooking spray, cover lasagna. Bake 25 minutes or until heated through.
Note: Basil Garlic & Pine Nut Pesto, Shallots, Scallion & Leeks Seasoning or Spinach Seasoning may be substituted for the Sundried Tomato Seasoning & Pesto