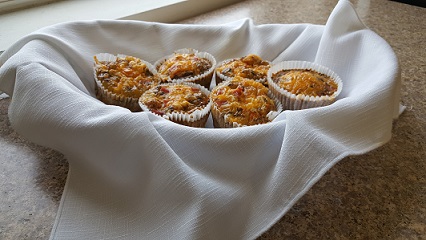 HAM & EGG OMELET CUPS Cajun Seasoning
Makes 12
8 ounces ham, cubed
10 eggs
½ cup onions, diced
½ cup bell peppers, diced
2 to 3 tablespoons Cajun Seasoning
¾ cup shredded cheddar cheese, divided
¼ cup chopped mushrooms
1. Preheat oven to 350⁰F
2. In a large bowl, beat eggs. Add onion, bell pepper, Cajun Seasoning, mix until well combined. Stir in ham and ½ cup cheddar cheese.
3. Line a muffin pan with 12 cupcake liners sprayed with cooking spray.
4. Spoon egg mixture by ⅓ cupful's into muffin cups. Bake 20 minutes, remove from oven and top with reserved cheddar cheese, bake another 5 minutes or until a knife inserted near the center comes out clean.
NOTE: These may be frozen and reheated for a quick grab and go breakfast!