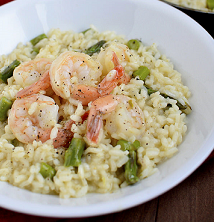 GREEK SHRIMP & ASPARAGUS RISOTTO Lemony Dill
Serves 4
3 cups less-sodium chicken broth
1 cup water
2 teaspoons olive oil
2 ¾ cups chopped sweet onions
1 cup Arborio rice
2 garlic cloves, minced
1 ¾ cups (1/2- inch) sliced asparagus (about 8 ounces)
1 pound peeled and deveined medium shrimp, cut into 1-inch pieces
½ cup (2 ounces) crumbled feta cheese
2 tablespoons Lemony Dill Seasoning
¼ teaspoon salt
⅛ teaspoon freshly ground black pepper
1. Bring broth and 1 cup water to a simmer in a medium saucepan (do not boil). Keep warm over low heat.
2. Heat oil in a large saucepan over medium-high heat. Add onion to pan; sauté 5 minutes or until tender. Stir in rice and garlic & Lemony Dill Seasoning; sauté 1 minute. Add broth mixture, ½ cup at a time, stirring constantly until each portion of broth is absorbed before adding the next (about 30 minute's total).
3. Stir in asparagus and shrimp; cook 5 minutes or until shrimp are done, stirring constantly. Remove from heat; stir in cheese and remaining ingredients.